September 18, 2020 Dear Blytheville Primary School Family, We have learned that a Kindergarten student has tested positive for COVID-19. This student was on campus during their contagious period. We have already contacted individuals who were identified as a probable close contact of this student letting them know they need to quarantine, that includes two kindergarten classes. A probable close contact is someone who was within six feet for 15 minutes or more of a known positive. Of course, you may contact your medical provider to determine if anything is necessary for you. At this time, no school closure is necessary other than those two Kindergarten classes mentioned. We understand this may cause anxiousness for you and your family and we regret any hardship. Please feel free to contact Nurse Tiffany Townsend at 870-278-0184
Blytheville Elementary held its first PTO meeting Virtually by Zoom. We love for parents to connect with teachers to provide feedback and offer suggestions to make school successful. Watch for more chances to work together! #EngagementMattersAR #Together4AR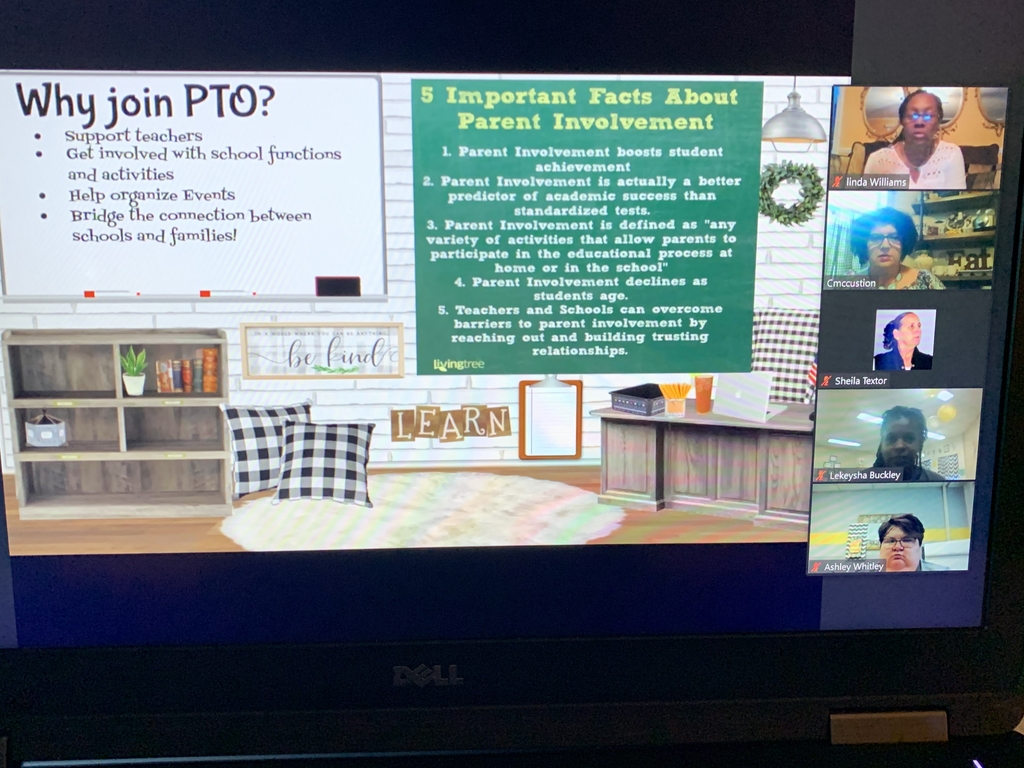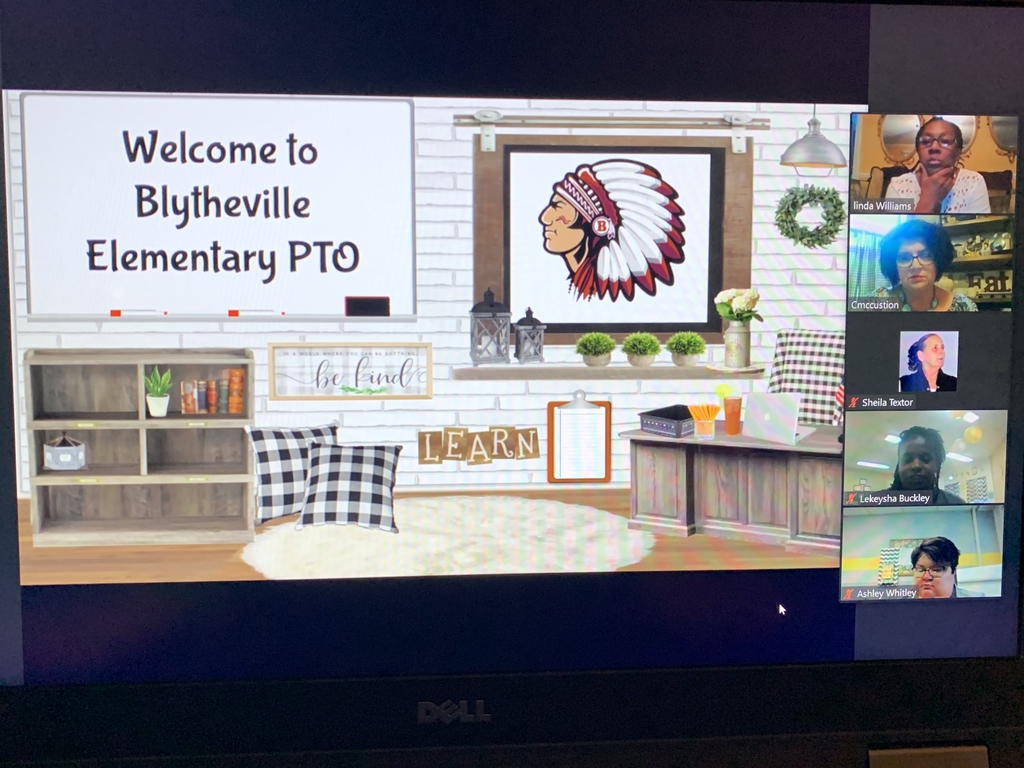 BHS Sports Events September 17-18, 2020 Blytheville Schools have 165 vouchers to distribute for the 7th grade/Jr High away games against Rivercrest Thursday night. 7th grade game starts @ 5:30, Jr High @ 7:00. Any of our fans that travel there, must have a voucher to be able to purchase a ticket when they get there. Two vouchers will be given to every player and coach on the teams to be given to whoever they want. The rest will be handed out at the Chickasaw Arena Thursday September 17th, 11:00-1:00 on first come first serve until we run out. Please only get vouchers if you know you will be attending. We ran out of vouchers for the Nettleton game and only about half of the vouchers were used to purchase tickets at the game. I'm sorry for the inconvenience, but this is the best method we could figure out with the COVID restrictions put on the school to enforce social distancing. The Sr high game against Riverview this Friday was cancelled. We scheduled an away game against McGehee to replace it. BHS Chickasaws will now be playing at McGehee this Friday, September 18th at 7:00. Because of the distance away, they are not requiring any vouchers there. You will just pay when you get there.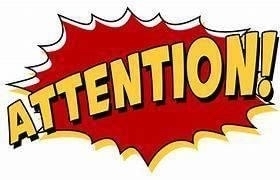 Please share! Fourth and Fifth Grade Girls Basketball Tryouts are this week. Virtual students are welcome to participate. Students must complete COVID screening prior to check-in. Masks must be worn.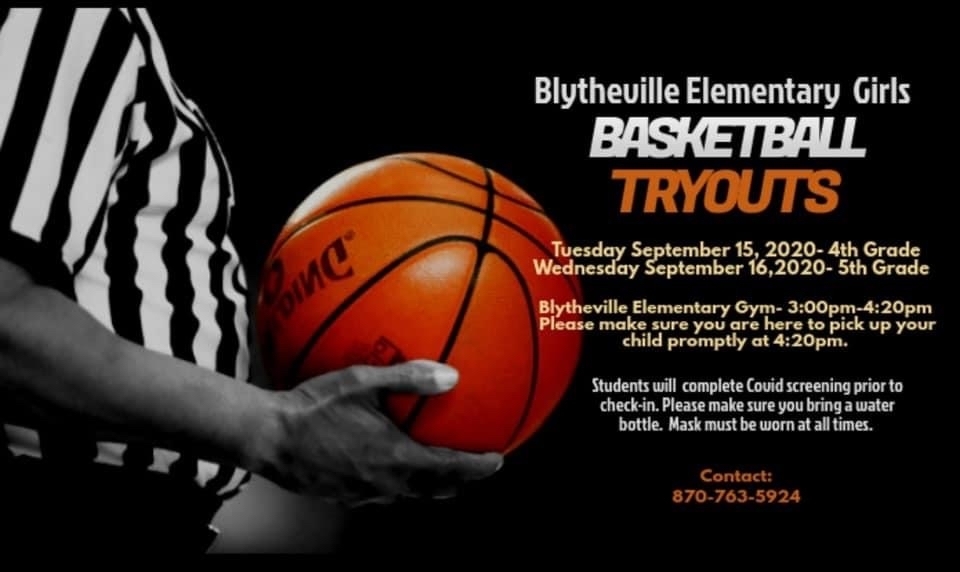 Who's ready to PTO through 2020-2021? This is definitely a year like no other, so virtual high five to all of you getting ready to jump right in! We are all in this together! Please join us for BES first virtual PTO meeting tomorrow at 4:30 pm. #wecandovirtuallyanything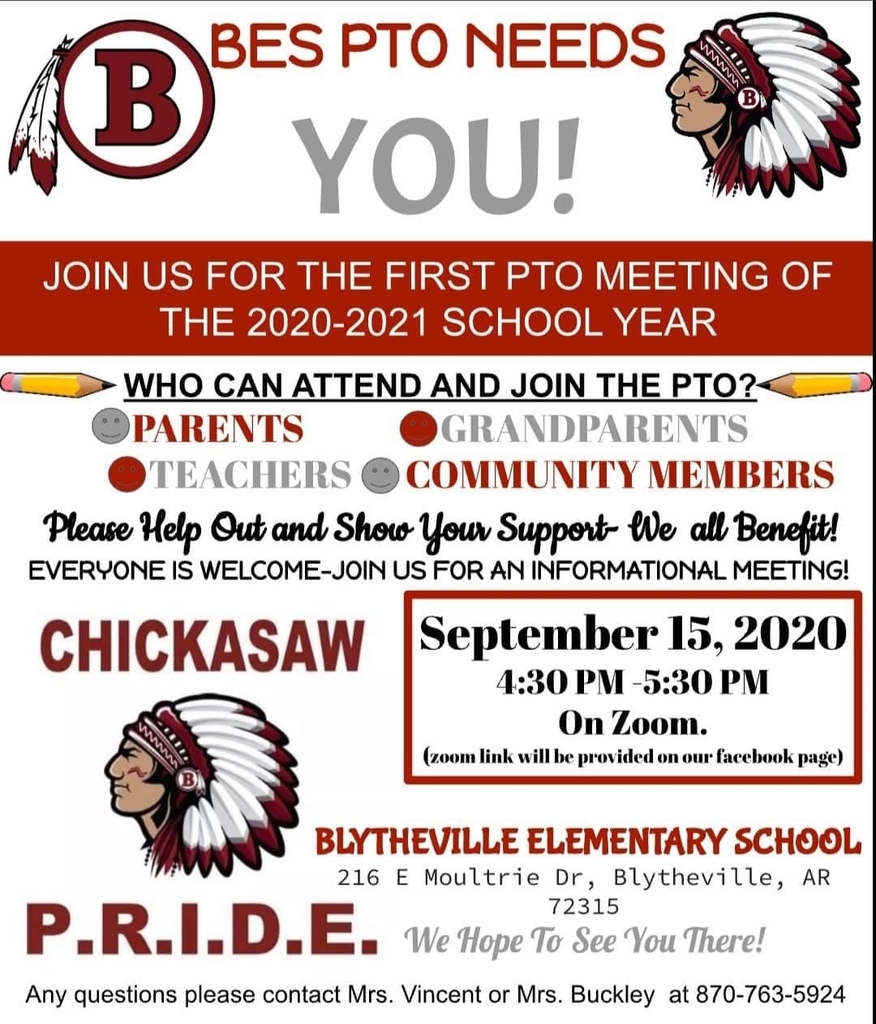 Dear Parents, This morning Blytheville High School was placed on lockdown. BHS Administrators received a tip that a weapon may be on campus early this morning. After the quick actions of our Director of Security and BHS Administrators, a weapon was found. The weapon was confiscated and the student was removed from campus. This incident is still being investigated, but be assured that the safety of our students is first and foremost.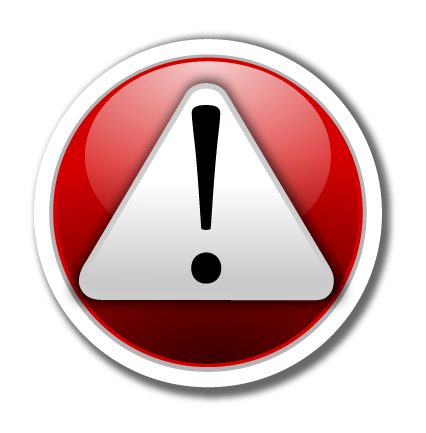 Thank you all for your support of the Chickasaw football team, but with the reduction in the amount of tickets available because of AAA requirements for social distancing we have no more tickets to sell for Friday night's game.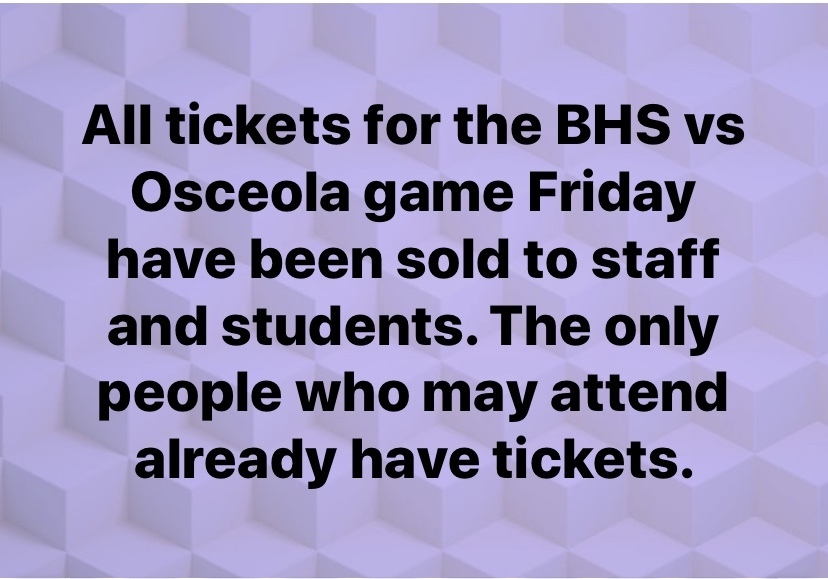 August 27, 2020 Dear Blytheville High School ALE Family, We have learned that a member of our High School ALE family has tested positive for COVID-19. This person was on campus this week. We have already contacted individuals who were identified as a probable close contact of this person letting them know they need to quarantine. A probable close contact is someone who was within six feet for 15 minutes or more of a known positive. Of course, you may contact your medical provider to determine if anything is necessary for you. At this time, no school closure is necessary. We understand this may cause anxiousness for you and your family and we regret any hardship. Please feel free to contact me at 870-762-0118. Sincerely, Mrs. Michelle Walling, ALE Director
All Blytheville Schools on-site students will be back to a normal five day a week schedule starting Monday, August 31st based on the latest Arkansas Department of Health numbers.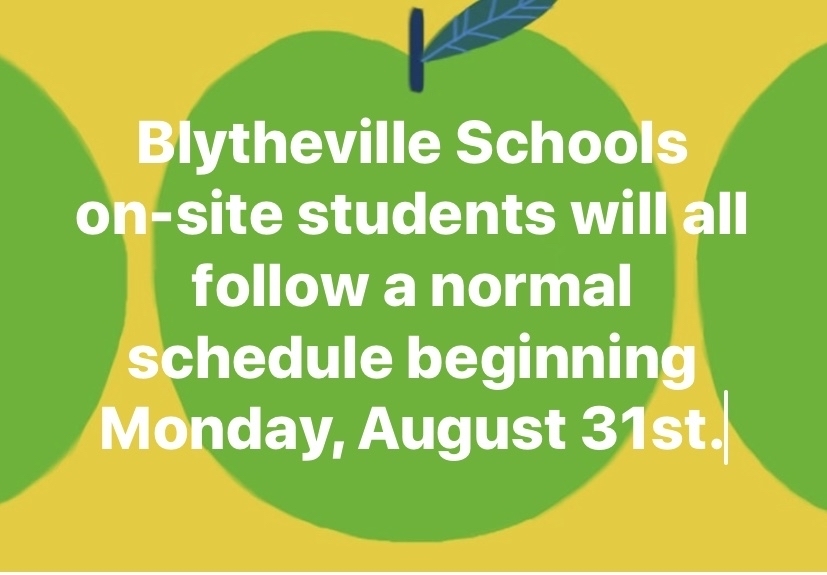 Attention Parents/Guardians of Virtual Students of Blytheville School District If your child needs a breakfast/lunch free of charge, email Tiffany Snyder at
tsnyder@blythevilleschools.net
and provide the student(s) name and grade, and the school where you prefer to pick up the meals. *Pick-up will be between 1:00-2:00 daily for both breakfast and lunch at the kitchen door at BHS, BMS, BES, or BPS. *Allow two days from the time you email Tiffany Snyder to give them time to get your name on the list at the school.

Blytheville Kindergarten Parents: In order to keep the environment safe for our children only one parent may escort kindergarten students to class on the first day. No additional family members may go in. That parent must wear a mask and pass the screening before entering the building then can walk with their child to get settled into the classroom. Our teachers are excited to meet you and will take great care of your child!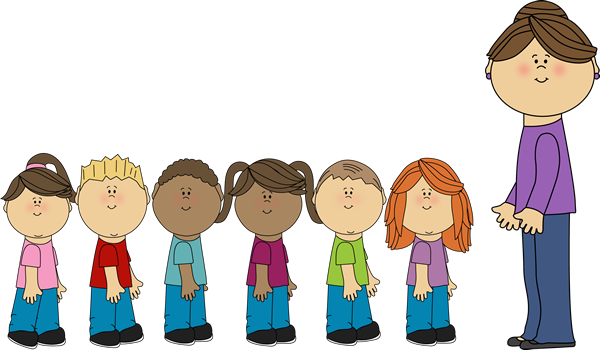 Blytheville Kindergarten classes start on Monday, August 24th. If your child is 5 by August 1st, they must enter kindergarten. Please come see us at 1107 Byrum Road to get registered so we will have supplies prepared so they can start learning right away!
Our teachers have been busy getting rooms and lessons ready for you at Blytheville School District! See you Monday either on campus or virtually! If you haven't registered be sure to go to campus this week so there will be a place for you!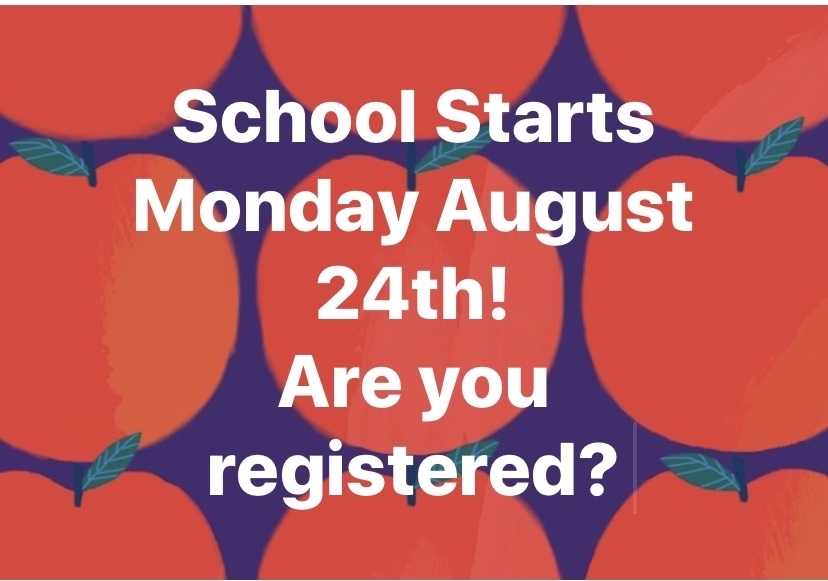 Attention Blytheville Middle School 6-8th grade parents: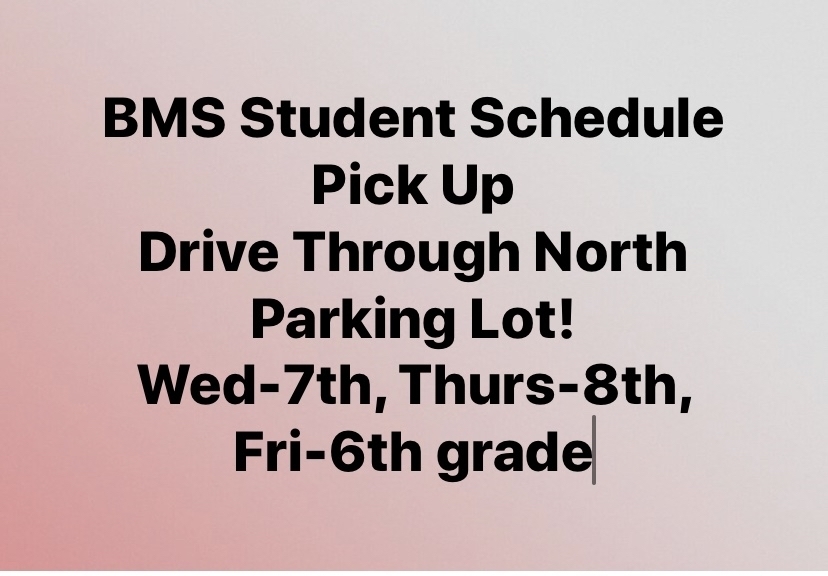 Elementary parents watch for an email or phone calls regarding Orientation for Virtual Students! Monday, August 17th 9-10, 11:30-12:30, 5-6 all onsite in cafeteria. Tuesday, August 18th 10-11, 1-2, 4-5 all onsite in cafeteria Wednesday, August 19th 8:30-9:30, 10:30-11:30, 5:30-6:30 all onsite in cafeteria Thursday, August 20th 9-10am by Zoom
Attention Parents of Virtual Students: Watch for messages about Orientation for Virtual Academy at each building this week to show you how to login to the learning management system!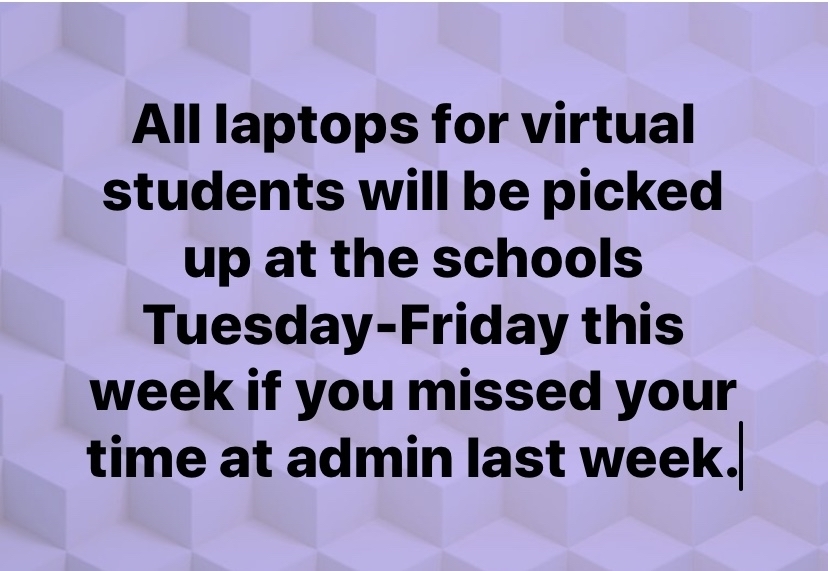 Primary School Parent Orientation for Virtual School is this week! Monday, August 17th 1-2 onsite first 20 people to sign up Tuesday, August 18th 9-10 Zoom Wednesday, August 19th 12-1 onsite first 20 people to sign up and 5-6 on Zoom Thursday, August 20th 1-2 on Zoom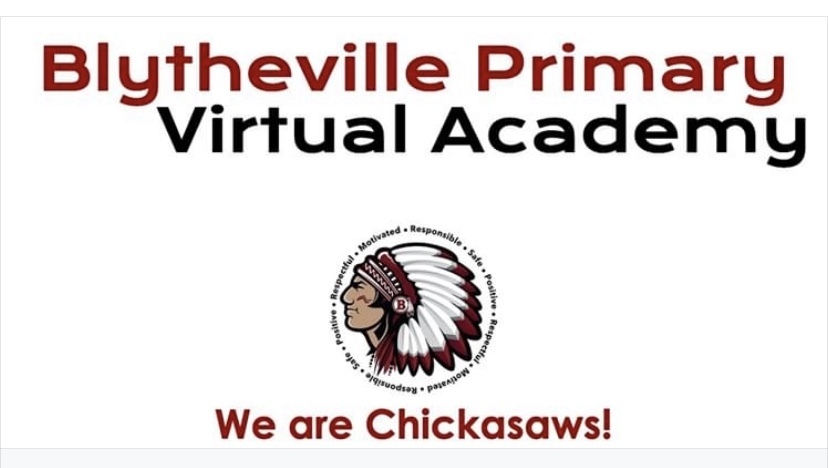 BHS parents and students please review the pick up times for on-site student schedules on Tuesday and Wednesday and virtual student schedules on Thursday and Friday below. Virtual student orientation times are also posted below!