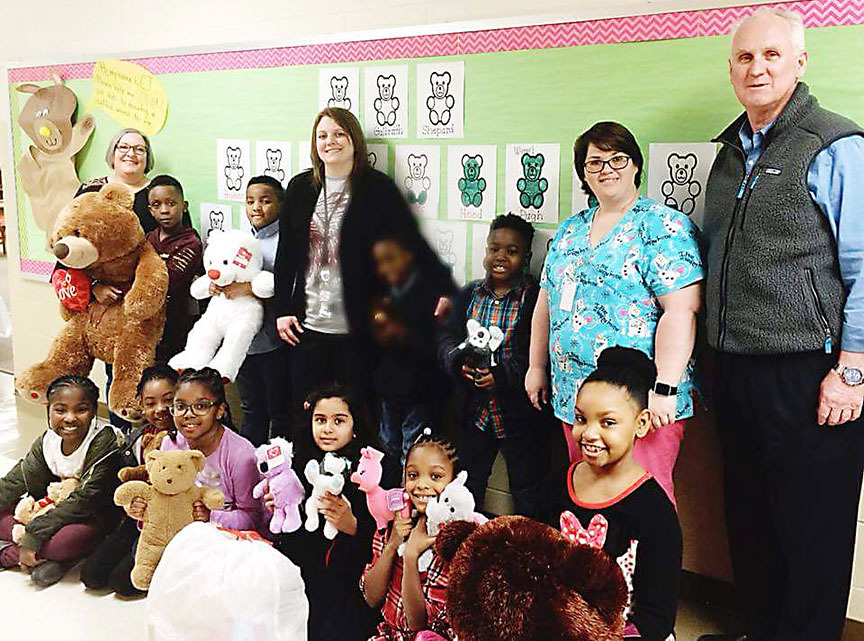 BPS students donate stuffed animals
David Cooke
Monday, March 26, 2018
Blytheville School District and Mississippi County Department of Health employees and BPS student ambassadors pictured include (standing, from left) Tracy Plunkett, Josiah Anderson, Ayden Allen, Melissa Moriarty, Javeon Adams, Ethan Tate, Stacey Hines, John Whitaker, (front, from left) Sy'Rah Maynor, Alyssia Hopkins, McKinley Walker, Kangana Shaw, Taniyah Bas and Maliyah Jones.
Students at Blytheville Primary School collected "a massive amount" of stuffed animals earlier in the month that were given to the Mississippi County Health Department. Stacy Hines and Brenda Stacy of the Health Department visited the school to receive the animals, and they were welcomed by the BPS Student Ambassadors.
"Wonderful things are happening in our community," said Principal Jana Wilson. "Over the course of the school year Primary has partnered with a different community group each quarter. We want our students to not only learn about our community, but to also learn how to give back and share kindness no matter how small that act of kindness may seem."
The school's area of interest over the third quarter was the Health Department. The students discovered that the health department staff was buying stuffed animals out of its own pocket to help calm upset children who are receiving care in their clinic. The students saw a need and found a way to help, and since returning from Christmas break they have donated 1,209 stuffed animals.
Hines and Stacy on March 7 were greeted by the second grade student ambassadors, who escorted them to lunch in the cafeteria and proudly showed off the massive collection of stuffed animals that will be delivered to their facility. John Whitaker, student ambassador coordinator, stated that "Student ambassadors are voted on by their class members to serve as role models for our school. The goal of this program is to grow future leaders for our schools and our community."
"We are astonished by the amount of hard work these kids have put in to collect these stuffed animals," said Hines about the donation. "We are very grateful for the outpouring of generosity. These stuffed animals will bring 1,209 smiles to kids' faces."